- ThreatProtector Cybersecurity -
Cybersecurity Consulting
Telesystem's cybersecurity consulting services are designed to help your organization improve your security posture and navigate the path to cyber resilience.
Telesystem's cybersecurity experts boast over 15 years of experience in the field, and are thoroughly equipped to safeguard your digital assets like never before. Holding prestigious certifications such as CISSP, GIAC Certified Penetration Tester, and GIAC Certified Incident Handler, our team is at the forefront of the industry, ensuring unparalleled protection against cyber threats. Gain peace-of-mind about your organization's security readiness, internal and external vulnerabilities, and required compliances, despite the ever-evolving cyber threat landscape.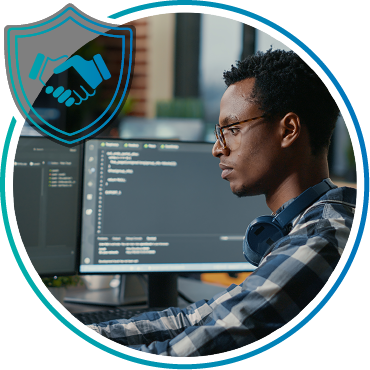 Cybersecurity Assessment
In less than 1 hour, receive a 360-degree picture of your overall network environment that assigns a risk score and remediation recommendations to every aspect of your organization's IT network, SQL Servers, Security, Exchange instances, and Microsoft 365 use.

Vulnerability Management
Today, Ransomware-as-a-Service (or RaaS) enables anyone to buy a subscription to everything they need to launch attacks, regardless of whether they're techsavvy or not. Our automated vulnerability scanning identifies rogue internal and external entry points within your network and sends alerts to help your business identify and eliminate weaknesses and security gaps before they're exploited.

Compliance as a Service (CaaS)
Let us help you achieve mandated regulatory goals to keep your business up and running. Ongoing monitoring and audits to accomplish and maintain compliance with multiple global regulations such as HIPAA, GDPR, NIST-CSF or CMMC, and managing due care for your cyber liability insurance requirements.
Security Information & Event Management (SIEM) as a Service
A vast number of cybersecurity incidents occur behind firewall/antivirus protection and most SMBs lack the tools and resources to detect them proactively. Protect your IT network against internal cybersecurity threats. Our advanced internal threat detection solution combines machine learning and intelligent tagging to identify anomalous activity, suspicious changes and threats caused by mis-configurations.
Pen Testing as a Service (PTaaS)
Internal and external penetration testing and simulated attacks expose vulnerabilities and weak points within your system that could jeopardize your data. The findings are documented in a vulnerability report including actionable remediation guidance.

Virtual CISO (vCISO)
Gain access to a fully-qualified subject matter expert to help your business identify and implement cybersecurity measures such as IT processes and policies, security roadmaps, incident response planning, security architecture, and risk management.
FROM THE BLOG
The Anatomy of a Phishing Attack and How it Can Impact Your Business.
Phishing is the most prevalent form of attack employed by cybercriminals, with the FBI's Internet Crime Complaint Centre recording more phishing incidents than any other type of computer crime. Whether you are a sole proprietor or a multinational corporation, the risk of falling for a phishing scheme is high, as criminals are becoming more cunning and convincing in their attempts.