- Voice Services -
Hosted Call Center
Call Center applications are an essential solution for many businesses from sophisticated call centers to small operations. With minimal upfront capital costs and the ability to pay for service "on-demand," Call Center delivers a comprehensive set of features that support all work environments.
Benefits of Hosted Call Center
DRAMATIC COST SAVINGS
With minimal upfront costs, a pay-as-you-go model reduced maintenance fees, and low network costs, our virtual Call Center is an affordable solution, whether your call center staff is five or 500 strong.
FLEXIBLE
Log in from anywhere with a phone and Internet access
Scalable to meet seasonal call volume fluctuations
Manage multi-site and remote agents from a single queue, independent of physical location
Adaptable to serve

any sized business
ADVANCED FEATURE SET*
Automatic Call Distribution
Virtual Queues
Open API
Agent/Supervisor reports
Contact monitoring
Click to escalate calls to a supervisor
Multi-Queue capable
Outlook integration
ACCESS TO LATEST TECHNOLOGIES
With our Virtual Call Center, you have low-risk, low-cost access to cutting-edge features so you can test drive the features that work best for your business, including Automatic Call Distribution, Web-based Agent & Supervisor Desk Clients, and Auto Attendant.
*Feature availability depends on the platform chosen. Please contact us to discuss your needs.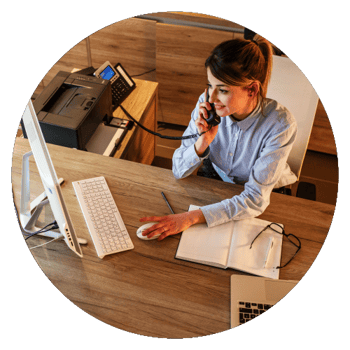 - FROM THE BLOG -
Why is First Call Resolution an Important Metric for Your Organization?
In a contact center, first-call resolution (FCR) is one of the most revealing performance metrics, as it captures something that is relatively straightforward yet tightly linked to customer satisfaction. A call center's FCR rate is the percentage of its calls that agents resolve on the first attempt, with no necessary followup. Learn how to achieve successful FCR on our blog.