- Network Services -
Managed WiFi
Our Managed WiFi solution can be customized for hotels, hospitals, local schools and colleges to conference venues, libraries and manufacturing facilities. From discovery and design to implementation and updates, we manage the entire process so you can get back to managing your business.


Reliable and Scalable wireless connections
The need for wireless connectivity is a critical and growing requirement for business operations. Today's consumers expect to be able to connect to the Internet seamlessly wherever they go. Telesystem's Managed WiFi offers your customers and guests the fast, open WiFi access they expect – along with the private wireless access you and your employees need to run your business securely and efficiently.
Telesystem designs, configures, installs, monitors and manages your secure wireless network freeing you from the burden and cost of setting up and managing a wireless network and allowing you to focus more on your business needs. Our complete end-to-end WiFi service is managed remotely, providing 24x7x365 monitoring and maintenance of firewall, switches and Access Points (APs) to ensure full coverage and complete connectivity as well as maintaining network components with up-to-date firmware and patches.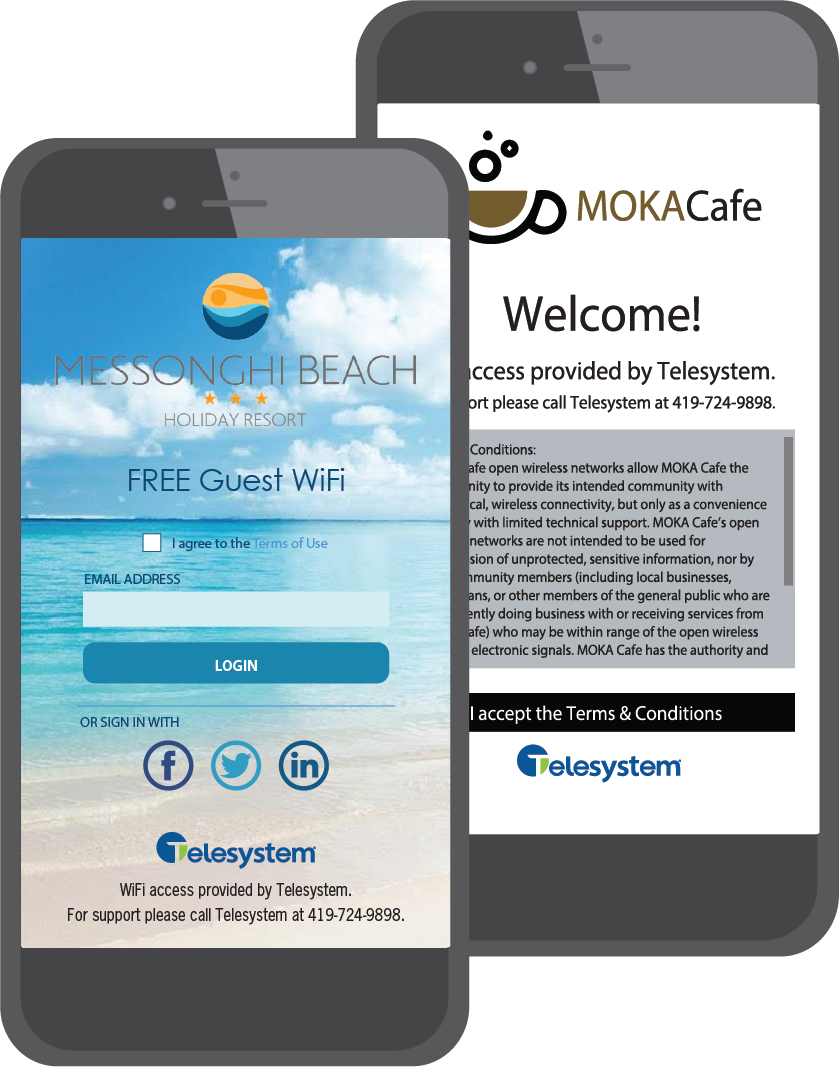 Features & Benefits of
Telesystem Managed WiFi
Management

- Freedom from having to employ and monitor on premise in-house support for the constant maintenance of the wireless networks.
Savings

– Telesystem handles support and equipment replacement costs.
Security

– Full HIPAA compliant WiFi access.
Scalability

– Quickly add or subtract equipment to meet demand.
Productivity

– Remote access provides a rapid response that meets the demands and fluctuations of an ever evolving, mobile workforce.
Reliability

– Proactive, preemptive monitoring assures minimal downtime due to outages. 24x7x365 technical support.
Affordability

– The end-to-end Managed solution avoids additional installation, replacement hardware, and upgrade costs offering a shift from capital expenditure demands to operational investments.
Private WiFi

– Restrict access to unauthorized users. Set up password protected WiFi for your employees with your own network name and security levels. Customize the splash page with your logo and usage information.
Guest WiFi

– Separate, secure WiFi network for customers and guests. Customize the splash page with your logo and usage information.
Custom Splash Page

– The splash page can be completely customized with your own colors, logo, images, sign on options and message (additional cost for Telesystem to design it for you).
Our Turnkey Solution Includes
Installation and Cabling
Hardware

Access Points (indoor and outdoor)
Switches
Firewall/RouterHardware
Virtualized, Cloud-Based Management of Wireless Networks

Multiple separate and secure SSIDs for Secure Guest Access Solutions
802.11N/AX 2.4GHz and 5GHz bands for the highest capacity
Cloud-managed WiFi with unmatched visibility, security, reliability, scalability and performance